Finally, the Ino-Padeye is online!

At the end of last year, the Ino-Padeye, our latest innovation designed in collaboration with VMG Yacht Design, received a special mention from the DAME Design Awards during the METSTRADE professional boatshow, in the Netherlands. We are proud to inform you that this new product is finally on the market and available in our online store!
What are the DAME Design Awards?
The Ino-Padeye took part in the most important nautical equipment contest in the world. Indeed, it was assessed by a panel of renowned naval architects, as well as by expert users. It is also noteworthy that only two French companies, including Ino-Rope with its Ino-Padeye, were finalists. Hurray! Moreover, at the end of the contest, our padeye was awarded the honourable « special distinction » for its conception and design.
Highlight on the Ino-Padeye:
After a first collaboration with the Swiss architectural firm VMG Yacht Design for the screw-on low friction ring, we have decided to seek their expertise for the Ino-Padeye. We wanted to propose a padeye with a refined and elegant design. Also, we wanted a padeye that was easy to install and safer on decks (notably for those who sail barefoot!). Thanks to VMG Yacht Design's expertise combined with our knowledge of modern ropes, we conceived a product that is both innovative and aesthetic. The Ino-Padeye was designed to be used with modern textiles. Indeed, it is not cumbersome thanks to its flat head and is easy to fit no matter what the support thickness is. Indeed, it does not require screws or extra nuts. Consequently, it can be fitted without a counter-plate or increasing thickness.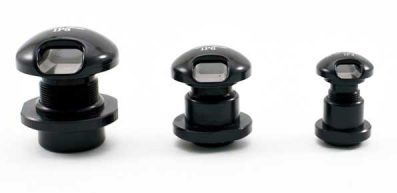 The Ino-Padeye is fully machined and made of high-quality anodised aluminium. Waterproof, of course, it is easy to install thanks to its innovative reversible nuts. No need to adjust the length of screws. In effect, this is a feature that professional users, shipyards or boat builders will appreciate. In addition, with less finishing details and accessories (screws, nuts, washers, protection, etc.) The Ino-Padeye enhances the aesthetic aspect.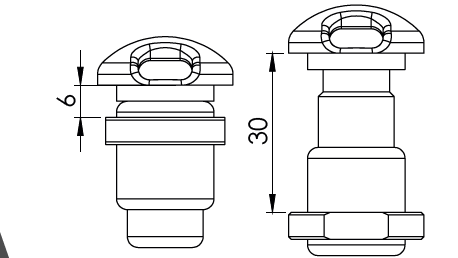 What can I use it for?
Indeed, it is perfect for mast-foot blocks, spinnaker sheets, running backstays, releasable stays, 3D sheet systems, multi-hull trampolines, but also for textile standing rigging. It can be used on decks or spars. The Ino-Padeye is the missing link between textile connectors and fixed points on board: used with a lashing, textile shackle or loop on decks or masts. The Ino-Padeye is currently available in three different sizes supporting a working load from 800 to 3 000 kg (maximum working load). Come and discover the Ino-Padeye that is available in our online store, by clicking here!