The tensile test bench is installed at Ino-Rope!
All the Ino-Rope team is proud to inform you that the tensile test bench has been delivered! Right from the beginning of spring, the important newcomer found its place in our workshop: with its 27m length, its 3.5 tons of steel, and its hydraulic cylinders which can bear up to 20 tons, one can say that it is imposing! Zoom in on the project genesis and its functionalities.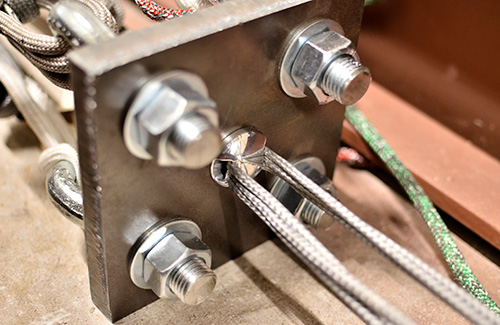 Up to 20T of breaking load for 20 m of cable or rope and 10T for 27 m!
When you talk about rope work, modern textile fibres and/or innovations, it obviously means tests! Breaking test, fatigue cycles… Resistance is the essence at Ino-Rope, so all our products face tough trial and testing, in order to validate their working load. "Before this, our products were tested by our various partners equipped with appropriate technology", says Jérôme, project manager at Ino-Rope in charge of the tensile bench conception. Although entirely reliable, it was sometimes a constraint to conduct these tests outside our premises for logistic or financial reasons. "Nevertheless, we keep this option open for tests that require a breaking load of more than 20 T". With the increase of our activity and the frequency of tests, this installation was mandatory.
"Our tensile test bench withstands a maximal breaking load of 20T for 20 metre ropes", he adds, which is amply sufficient to test the full range of our future products.
Moreover, there are only a few tensile test benches on the market that offer both length and stroke adapted to modern textiles. It is even harder to find the adequate bench if we need to conduct fatigue tests on our products that require hundreds or thousands of cycles.
The use of new fibres and new textile technology necessarily leads to the need for new test tools. This is why we designed and built this rare bird, which will soon be equipped with numerous sensors and remotely controlled by computer, in order to program test cycles, with progressive loads or in stages, etc.
The test bench now enables us to conduct as many tests as required and to work with more ease on our future innovations.
An essential tool for our manufacturing division
Amongst our rope work secrets, pre-stretching of our textile cables and blocks is an indispensable stage in order to increase the resistance of our products, their stability under load and their dimensional accuracy. Previously limited to 3 tons, the tensile-test bench will allow our riggers to pre-stretch their production up to 20 tons.
2.0 Version: Attribution of certificates and approval update of our tensile test bench
Currently, we are under the process of certification (EC standard, calibration…) in order to propose the use of our bench to other companies wishing to test the resistance of their products. So, by the end of the year, we will be able to issue test certificates We also plan to obtain more reliable results by installing sensor systems in order to measure precisely the elongation of ropes. We will keep you posted!