Gear: Ino-Padeye from France's Ino-Rope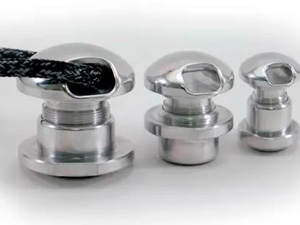 Le 23/09/2019
Developed in conjunction with Switzerland's VMG Yacht Design, the Ino-Padeye
from France's Ino-Rope oers an award-winning combination of aesthetics and
functionality. Machined in high-strength anodized aluminum, the padeyes are
specifically configured to accommodate high-performance ropes, like Dyneema,
with minimal chafe. This makes them an ideal connector for textile shackles, loops
and lacing lines of the kind used in mast foot blocks, multihull trampolines, 3D
sheeting systems and staying applications. Available in three sizes to accommodate
loads of 1,700 to 6,600lb, Ino-Padeyes are also easy to install. All you do is drill a
single hole and screw the unit in. Thanks to the reversible backing nut supplied
with each padeye, each Ino-Padeye can also accommodate a wide range of decking
widths.
BY ADAM COR