The textile approach at the heart of our solutions
Ropes in our DNA
Since 2013, we have been creating and marketing products and solutions based on high performance ropes. Each innovation is validated by a series of tests and meets a very strict process of manufacturing that guarantees the quality of our products.
We are a company born in the nautical sector, where "modern" ropes assume a central position, and particularly so in the demanding field of offshore racing. By supplying shipyards and equipping the most efficient racing sailing boats, we have acquired expertise and know-how that allow us to select the best ropes and provide high quality splicing tasks.
We know all the parameters (structure and materials) that make up the identity of ropes and condition their application like the back of our hand. We also master the art of transforming lines (splicing and connector fabrication). Based on this experience, we are capable of developing our textile solutions in numerous fields, both nautical and maritime, but also more widely to the industrial sector. Designing and manufacturing high performance ropes adapted to your guidelines is our job!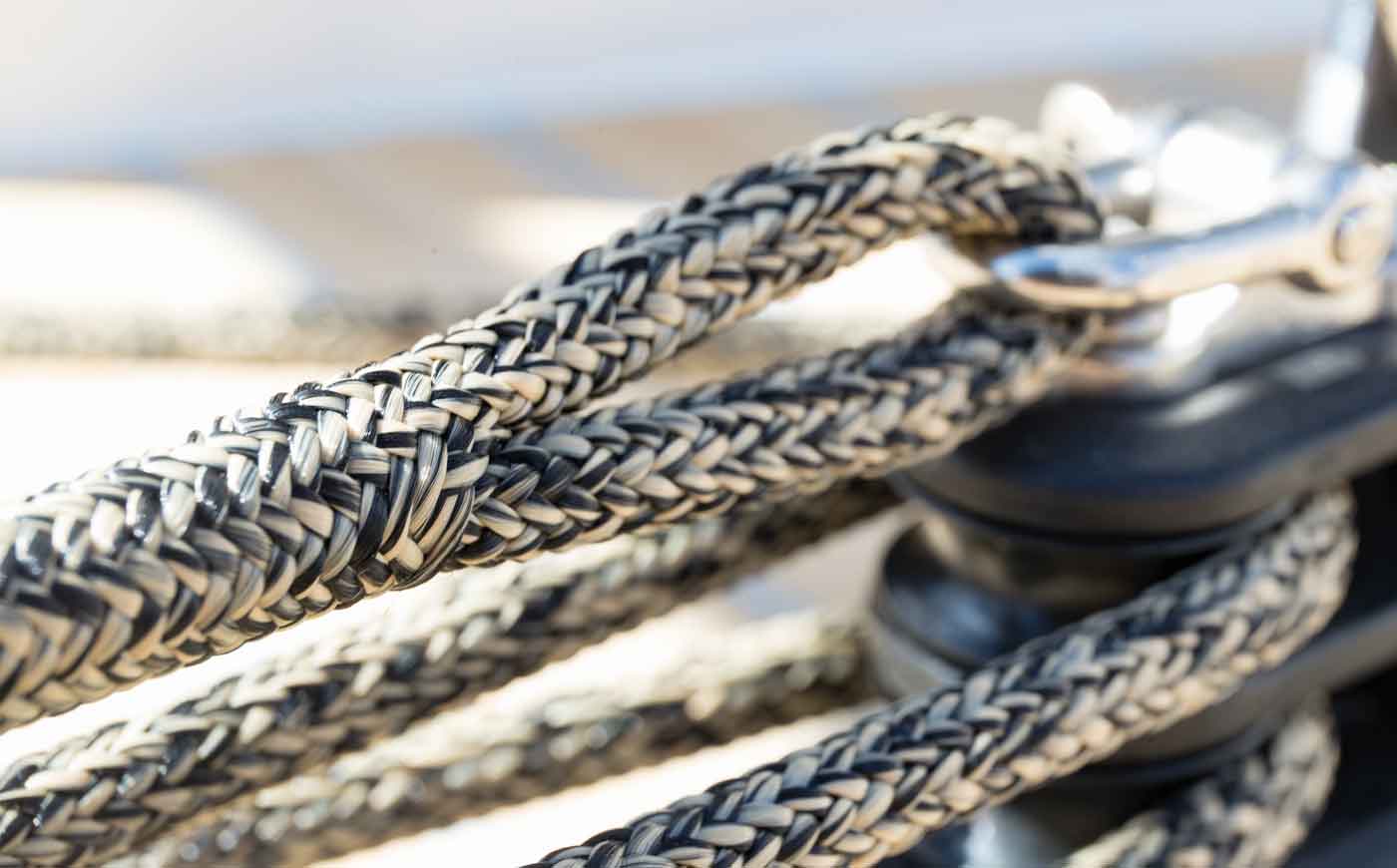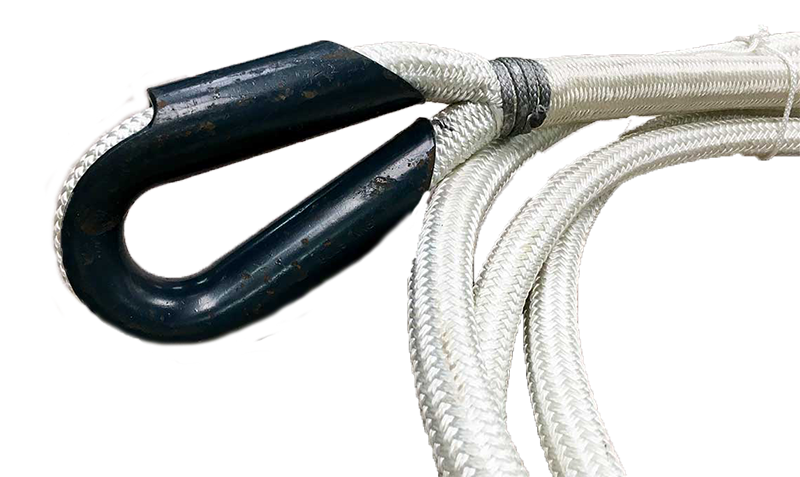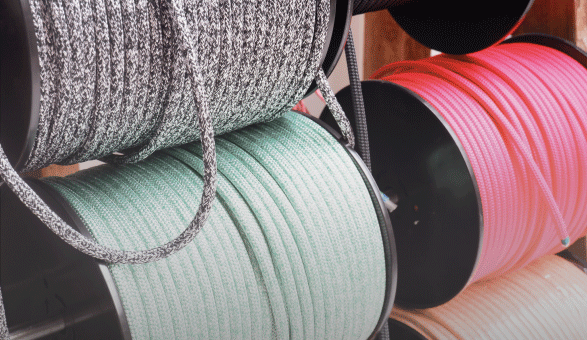 Solutions adapted to your guidelines:
Polypropylene, polyamide (Nylon), polyester, high-modulus polyethylene (Dyneema, HPME, UHPME), aramids (Kevlar, Technora), PBO… There are very many fibres with different characteristics.
Using one or several fibres, associated to a specific structure (rope with adapted braid, filament winding) can create a solution adapted to specific uses.
The different fibres we use:
Polyester:
Petrol-based fibre, polyester, very frequently used in the nautical sector, is characterised by its excellent quality-price ratio. Polyester is UV and chafe resistant. Its elongation (elasticity) varies from 8 to 12 %, depending on the quality of the fibre.
Polypropylene:
Polypropylene is light, hydrophobic and elastic. It is used for example in the confection of fishing nets (the part that floats) or towing cables. In some mixed composition ropes used for sailing boat running rigging, it can be associated to other fibres (Dyneema ®, polyester) to save weight and limit water absorption.
Polyamide (Nylon ®):
Polyamide stretches even more than polypropylene. This specificity is interesting for the creation of high shock absorption (towing cables, mooring lines…). Polyamide also has the advantage of being more moisture resistant than polypropylene.
High-Modulus Polyethylene (Dyneema®, Spectra®):
High modulus polyethylene, HMPE or UHMPE or UHMWPE, is the name of a fibre based on petrol. DSM Dyneema TM and Honeywell TM have commercialised the brands Spectra ® (since 1983) and Dyneema ® (since 1990) respectively. There are other less-famous ones with similar properties. High modulus polyethylene is resistant (with the same mass, its breaking load is far higher than many other fibres). It is not very sensitive to UV, chafing, high bend radii and acid environments. Its main disadvantage is its sensitivity to high temperatures. Noteworthy: a plant-based version of DSM Dyneema was launched in 2020.
Aramides (Kevlar ®, Technora ®):
Aramids are a family of fibres: aromatic polyamide (of which aramid is the contraction). Kevlar ® and Technora ® are brands of aramids. The latter are less and less used as cores since the improvement of Dyneema properties. Their lifespan is much shorter due to their high sensitivity to UV, humidity and self-abrasion (wear of fibres against themselves). They are still used for covers (winches, blockers) for their resistance to heat and high coefficient of friction (hold in deck ware).
PBO (polybenzoxazole):
Polybenzoxazole is a fibre invented and commercialised by the Japanese company Toyobo. It has exceptional resistance to breaking, negligible breaking elongation (elasticity) and excellent mechanical and thermal stability. PBO is often used in the manufacturing of covers/shafts (for resistance to heat of sheets around winches for example).