The Stick-on Ino-Padeye: Design Stages
Stick-on Ino-Padeyes have been available for sale in our Ino-Rope e-shop for a few months now. Initially, this solution was developed for offshore racing around twenty years ago. It has spread widely since then. Ino-Rope has put all its expertise and know-how on deck to review the concept and provide its own complete and coherent range of stick-on padeyes:
– textile loop or integrated threaded padeyes
– carbon or fiberglass padeyes
– round or triangular padeyes.
Validated after a series of tests on our tensile bench and produced industrially, the Ino-Padeyes cover a wide range of breaking loads from 150 to 300 kg. The certified tests guarantee the quality of our products and the manufacturing process allows for a linear production. Let's go over the creation of the design with our R&D manager, Nicolas Charmet.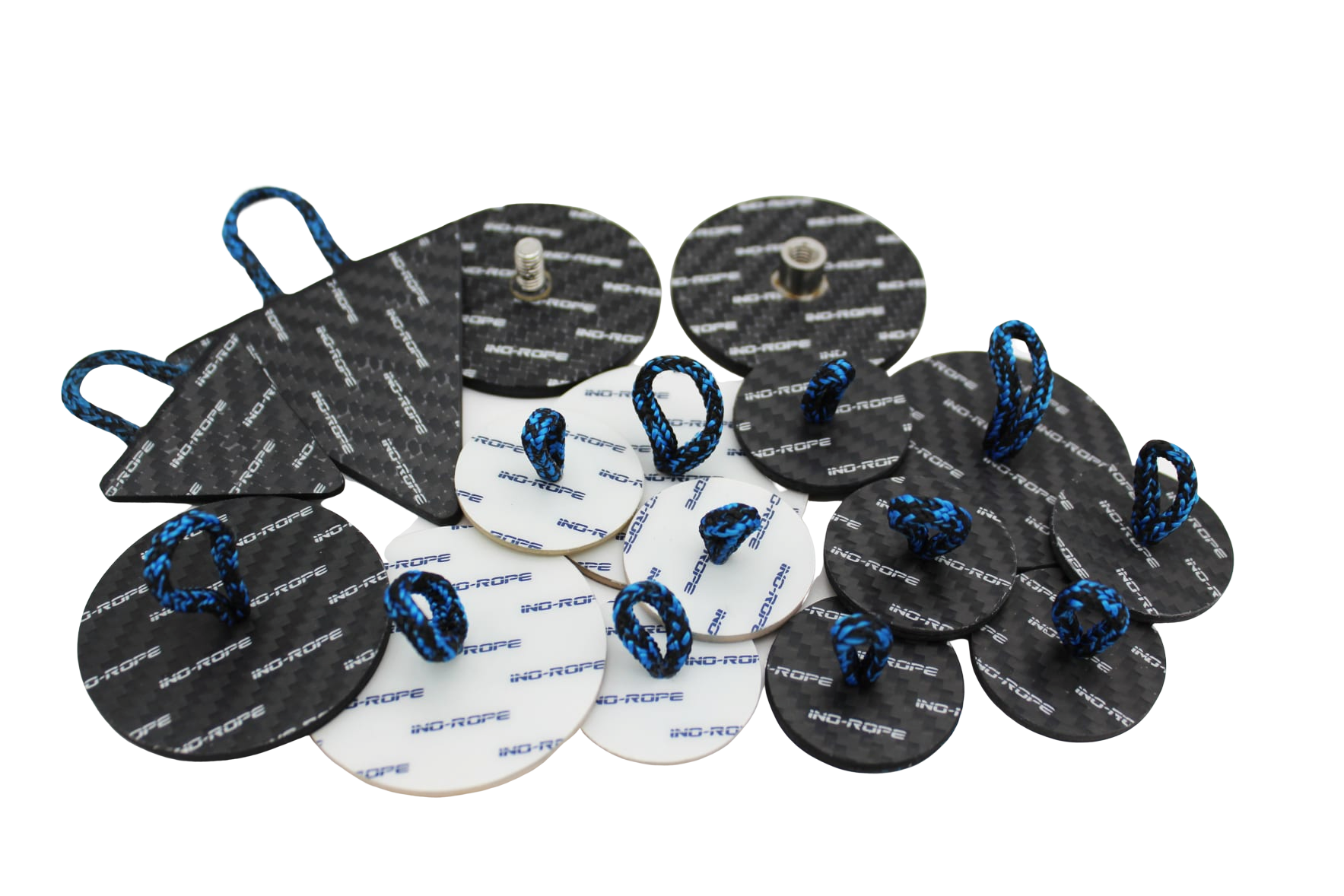 Is Ino-Rope's Ino-Padeye an innovation?
What people call a textile padeye today has existed for many years. It's difficult to know who invented the concept, also called a textile chainplate. It's a small plate to be stuck, it's often round (but it also comes in other shapes, with varying results), with a little twine through it making a loop. A padeye is a simple and elegant way of creating a fixing point that can withstand important loads, on a boat or any other type of medium. "I've seen this type for more than 20 years and riggers in many countries told me they'd made them dozens of years ago!" adds Nicolas Charmet, our R&D manager. "For all we know, the first to have seriously worked on this topic was François Robert, manager of FR Nautisme shipyard who, after much development work, commercialised a model. Following that, many others tried to make these padeyes, with more or less success."
After discussing with our clients, we came to realise that, concerning this product, their demands for reliability were high. Their resistance to loads is difficult to prove and we noticed that it was often highly variable, sometimes for the same model. As such, we focused on this aspect to develop a safe and linear manufacturing process.

"Within the Ino-Rope team, we have already produced several tailor-made textile padeyes for different offshore racing projects. Textile fibre is part of the DNA of our products, but we did have to put in considerable effort and rigour to reach this result.
Other than a highly-specific manufacturing process, we changed the traditional round shape and came up with a triangular base, designed to resist shearing when the load's axis is parallel or almost parallel to the glued part. This innovative technology is more efficient than classic, round padeyes, especially as concerns tearing (when working perpendicularly to the glued part) but not against shearing.
Technical partners and chosen materials: a winning combination! !
We launched this project at the beginning of 2019 looking for a technical partner who could work with us on the product's laminated material part. "We chose to work with Foil and Co, a company based in Brittany specialised in the manufacturing of composite pieces. The guidelines were clear: to get a reliable and cost-efficient product, with an industrial production capacity". 
"Textile padeyes were invented by sailors who wanted to make their boats lighter." Naturally, we turned to light, yet sturdy materials such as carbon and fiberglass (widely used in the navigating world for their mechanical properties). "The specific properties of these composite materials allowed us to put fibres in the axles we were interested in. If the padeye is deformed during traction, the load isn't spread out evenly on the entire glued surface," Nicolas Charmet explained.
Associated with our knowledge of modern fibres, composite materials allow for a greater flexibility of production in terms of sampling and volume, as well as shapes and widths. Also, the modern processes of developing composites developed by our partner Foil&Co allowed us to envision a quality, semi-industrial production that was reliable and met the market costs, while being 100% French, and even better, Breton!
The Dyneema® and polyester braid loop: Dyneema® et polyester :
With Corderie Lancelin we developed a braid especially designed for the production of the stick-on Ino-Padeyes. Studied to resist abrasion, it was optimised for our fabrication processes and particularly adapted to gluing. "We tested various braid prototypes, with mixtures of different modern fibres. We selected a very tight braid with a few strands of blue polyester mixed with black Dyneema® fibres. The braid in itself is widely over-dimensioned compared to the padeye's breaking load, but this is a warrantee against abrasion."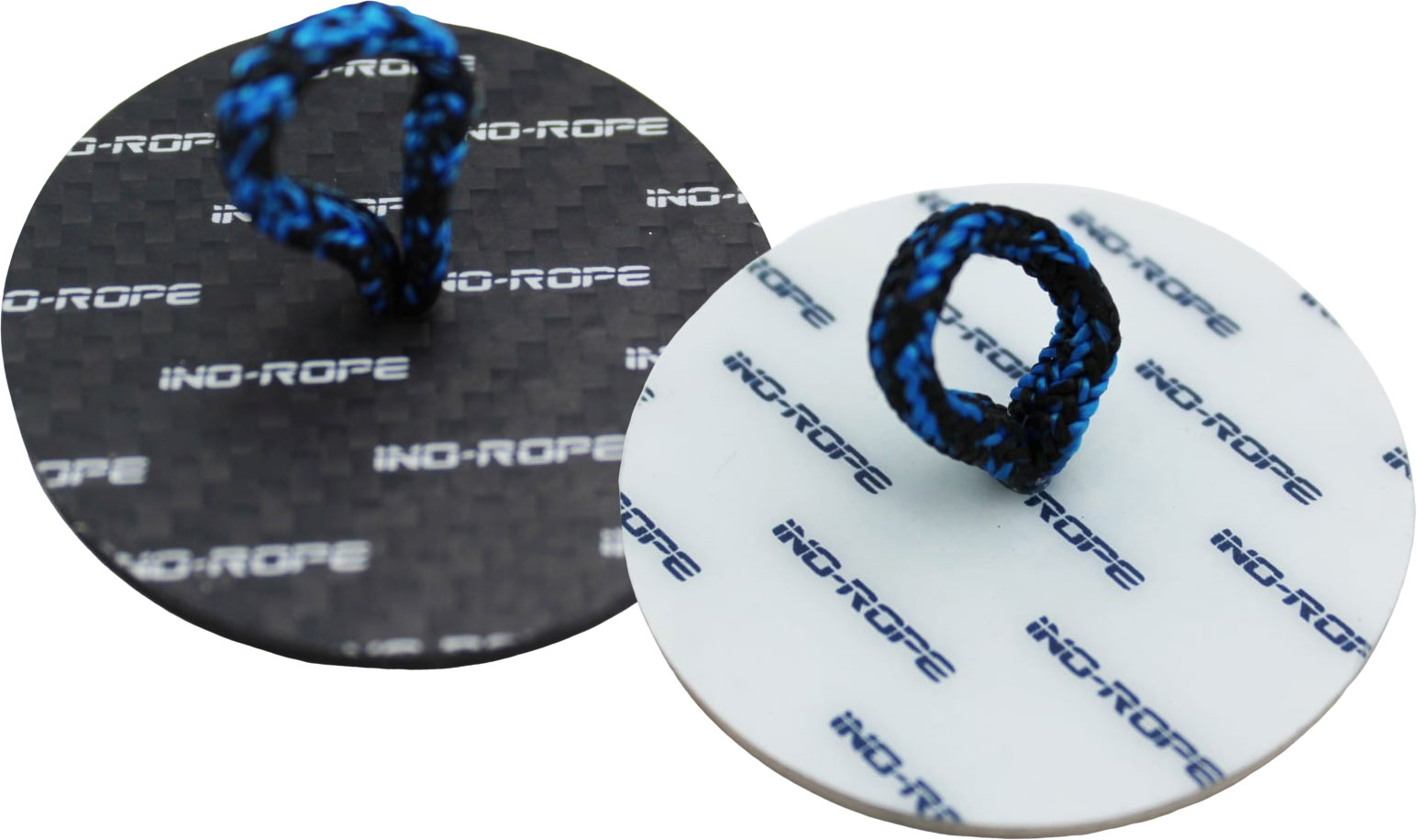 A conclusive testing phase
During the testing stage, we tried out dozens of prototypes at different angles and with different glued assemblies. This allowed us to analyse how the padeye broke and thus stabilise the breaking loads, a particularly difficult operation when gluing Dyneema®
Ino-Padeyes can be stuck with a structural epoxy, methacrylate or another type of glue, but it must be noted that the disassembly can be difficult and destructive for the product and/or the support. That's why we opted for a polyurethane glue, such as Sikaflex®, often used in the nautical world. This type of glue ensures the products' reliability while preserving the surface on which it is stuck. "We tested the surfaces stuck on with Sikaflex in the worst conditions to reach 150 kg and 300 kg of breaking load that our market study had identified." explained the R&D manager.
After the launch at the METS show in Amsterdam of the first models of stick-on Ino-Padeyes (now available in 35 mm and 55 mm – fibreglass or carbon), we will shortly release the Delta model and the development of through deck padeye, adapted to heavier loads.
.